How does it work? - Humidification

Innovation as a business model

CAREL and STULZ combine their cooling power.

Introduction
Research & Development are the heart of their commitment. A total of 7% of consolidated sales is reinvested in Research & Development, in order to anticipate customer needs and supply advanced solutions. A further 3% of sales is regularly invested in production process technology, so as to ensure ongoing improvement and growth. CAREL also operates two research laboratories, one focused on thermodynamics and the other on humidification, true points of excellence in their respective fields.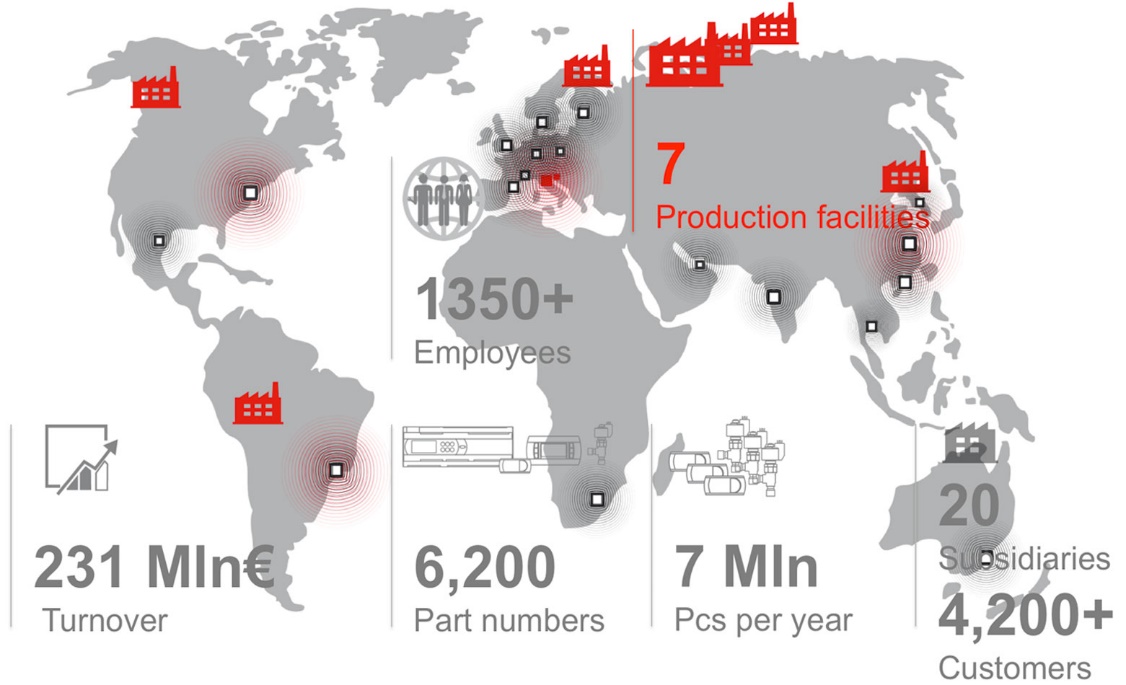 Their responsibility towards their customers goes well beyond the value of their sales. The products they develop are in fact components that account for approximately 2 to 10% of the value of the customers' finished products, depending on the application
Moreover, being components that are difficult to source elsewhere, they have adopted a disaster recovery system that involves at least two production sites for the majority of their products. This means they can guarantee the supply of their components even in extreme situations
Why humidify:
Low humidity affects both comfort and welfare/human health. In winter, when in closed and heated spaces the relative humidity of the air drops, the respiratory problems increase and the circumstances for the eyes, the skin, the nose and the mouth are adversely affect. The low humidity levels facilitate the spread of bacteria and viruses in the atmosphere. Too high humidity levels increase the risk of spreading of viruses and bacteria. To prevent biological pollutants to multiply and to spread, the relative humidity would ideally be kept between 40% and 60%.
An accurate humidity control reduces the problems caused by a dry environment, while the comfort increased and the equipment will be protected. This creates a safer workplace for staff and visitors.


Relative humidity
As it gets warmer the air humidity degrease. For a pleasant working environment, it is important that the relative humidity not drops under the 40%. When the relative humidity is lower than 40%, it can lead to dry skin, nose, eyes and throat. This makes human more susceptible to infections and the risk of illness and complaints increase. In general it can be said that problems caused by dry air differences, but there can be distinguished three main problems: static electricity, moisture stability and health. At 23 ºC an air humidity between 40 and 60% is considered by most people as comfortable. For people with allergies and asthma is a relative air humidity of 45-55% the most pleasant.
Is often cited as an argument that the rv is not the cause but the dust what is floating in space. All the research done on the impact of dust have all quoted from the same sources (17 pieces). Further investigation of the Delft University of technology found that 14 of the 17 could not endure the scientific test of criticism.
In order to get an acceptable amount of dust they have to vacuum:
16 x/week the course areas
8 x/week the sitting areas
If this can last a month, they can halve the frequency.


Source: mg John Robert (dr Dust)
Research by E.M. Sterling, A. Arundel and T.D. Sterling indicate that absenteeism by affecting the respiratory system was significantly lower in buildings where the rv was well arranged. Hence that graph below is included also in the various ASHRAE handbooks.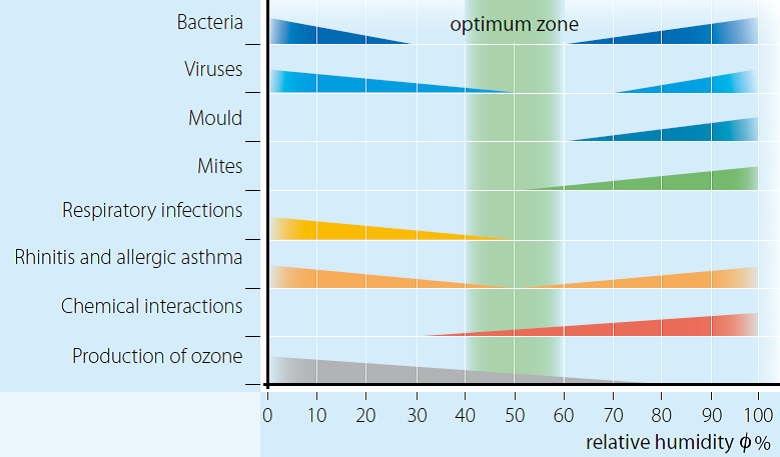 | | | | Isothermal (steam) | Adiabatic (atomization) | | |
| --- | --- | --- | --- | --- | --- | --- |
| | | Aseptic | Does not contain any bacteria | Treated water needed | | |
| | | Capacity | Medium (from 1 to 180 kg/h) Expand through cascade | Enormous (0,5 to 1000 l/h) On request to 5000 l/h | | |
| | | Energy consumption | 750 Watt / kg/h | Ca. 10W / l/h. However, one has to compensate the adiabatic cooling effect. | | |
| | | Traject | Is easily and quickly absorbed by the air. | Depending on the amount and the air speed | | |
| | | Temperature changes | Negligibly | 1 gr. Water in 1m3 air gives a decrease of ca. 2,5 C | | |
| | | Water | Tap and treated | Tap and treated | | |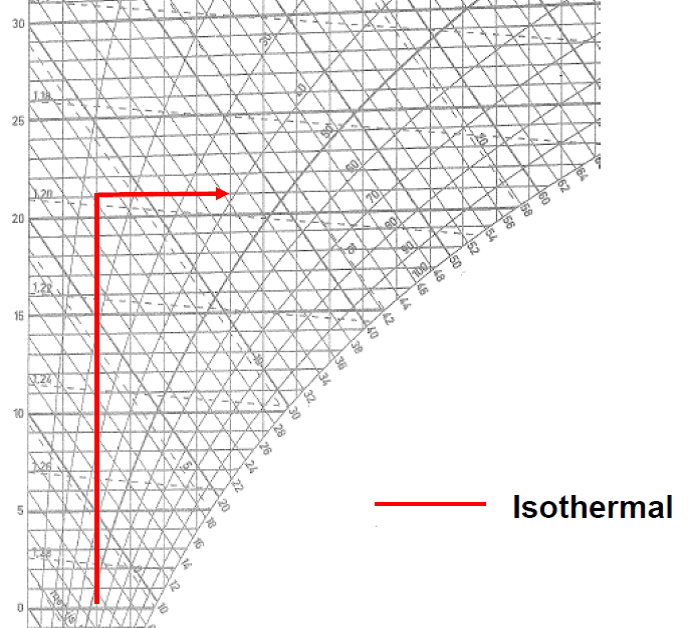 Adiabatic cooling with water atomization.
Water has an evaporation heat of about 690 Watts/liter. In other words: If we add 1 gram of water to an m3 air, the temperature drops by 2.5 °C. The energy to evaporate the water is extracted from the air making this cooled and moistened. This is the adiabatic cooling effect. This technique has been used in data centres. In 2008 HP (EDS) already built a data centre in Newcastle with a PUE of 1.15.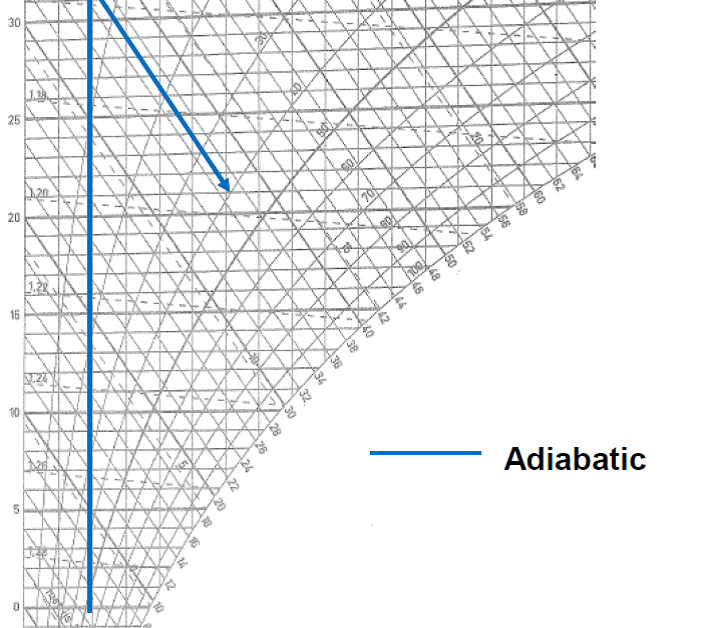 Here they made use of outdoor air, supplemented with direct evaporative cooling by means of high pressure (75bar) atomization. A similar technique is in the countries around us also often used in comfort systems such as hotels and office buildings. Here is then the return air saturated before it passes a cross-flow changer before it's extracted. The exchanger is cooled so that the outdoor air is sensible cooled without something has changed to the absolute moisture content. This technique is called indirect adiabatic cooling.
---

How does it work
As soon as we have determined what our supply and return conditions are, we can divide the diagram into different areas. Each area tells us now what to do to save energy if it is possible. Evident in this figure is , that area 1 offers us no opportunities. We derive the return air now by a cross-flow heat exchanger the regions. 1 and 4 becomes smaller in favour of areas 2 and 5.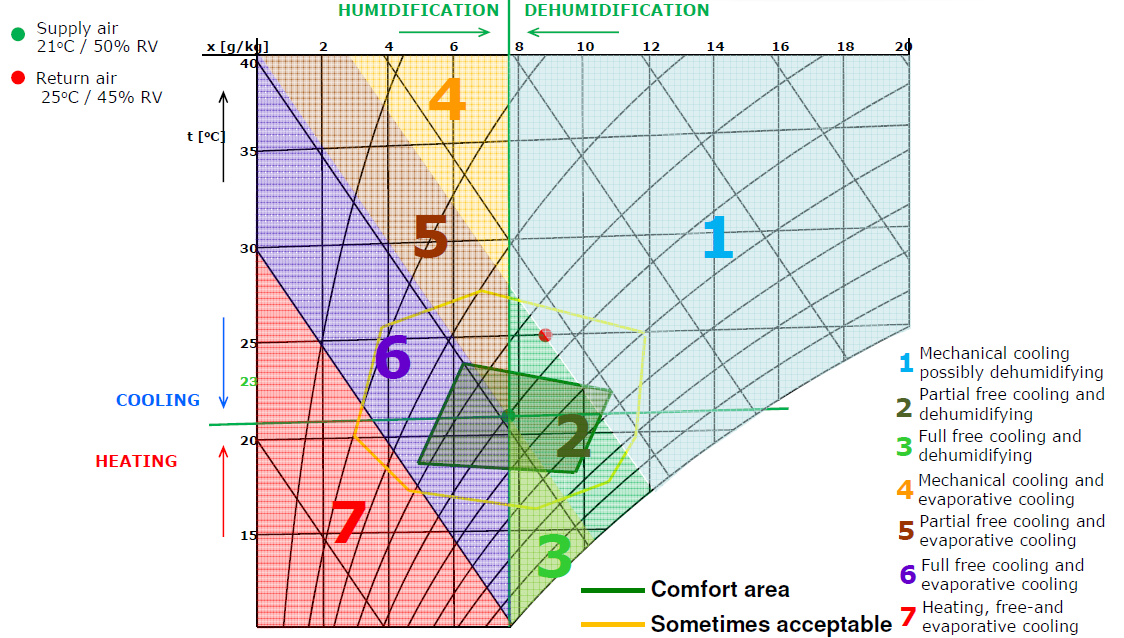 ---