Indoor Air Handling Units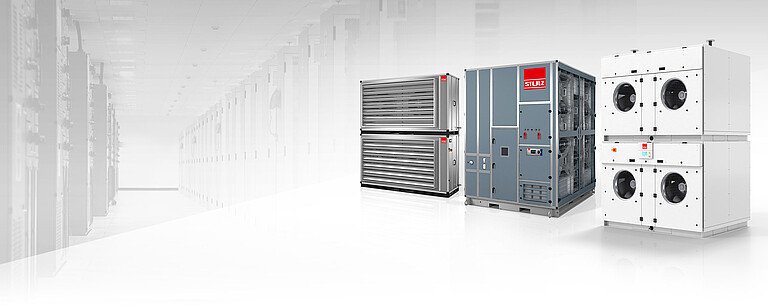 New design concept for greater performance, energy efficiency and redundancy
Breaking new ground: When it comes to large and hyperscale data centers, conventional air conditioning systems are up against their limits. Restricted space, electricity consumption and high heat loads are some of the challenges that need to be overcome. STULZ offers solutions to these challenges and guarantees efficient, demand-based and reliable air conditioning of your mission-critical equipment.
Our air handling units unique design allows space for taller server racks with greater IT load densities, therefore enabling air conditioning of the maximum heat load.
>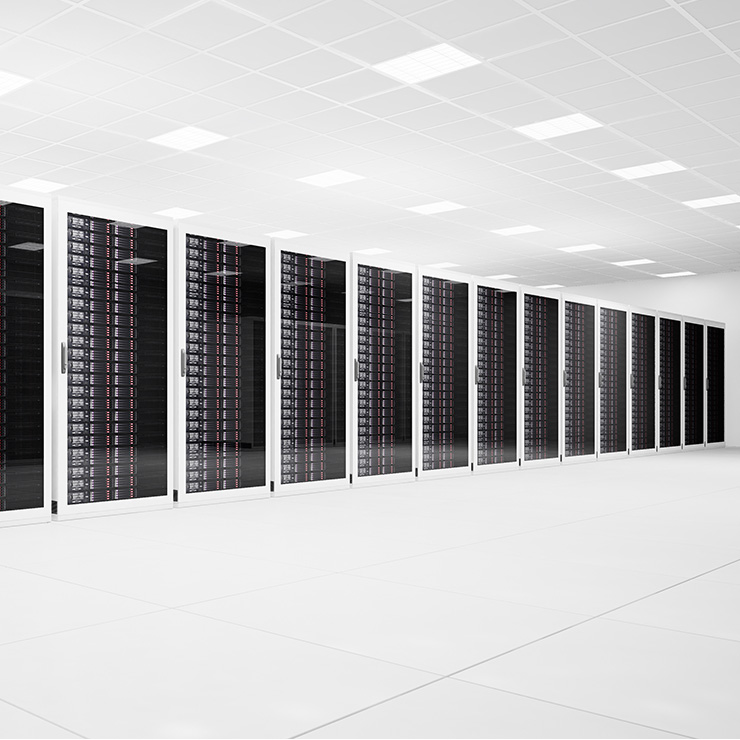 >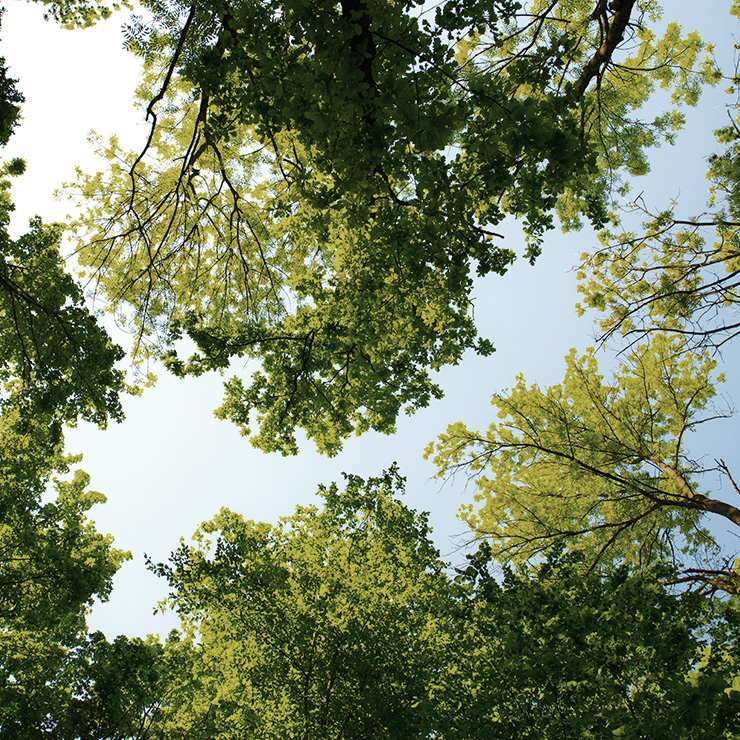 >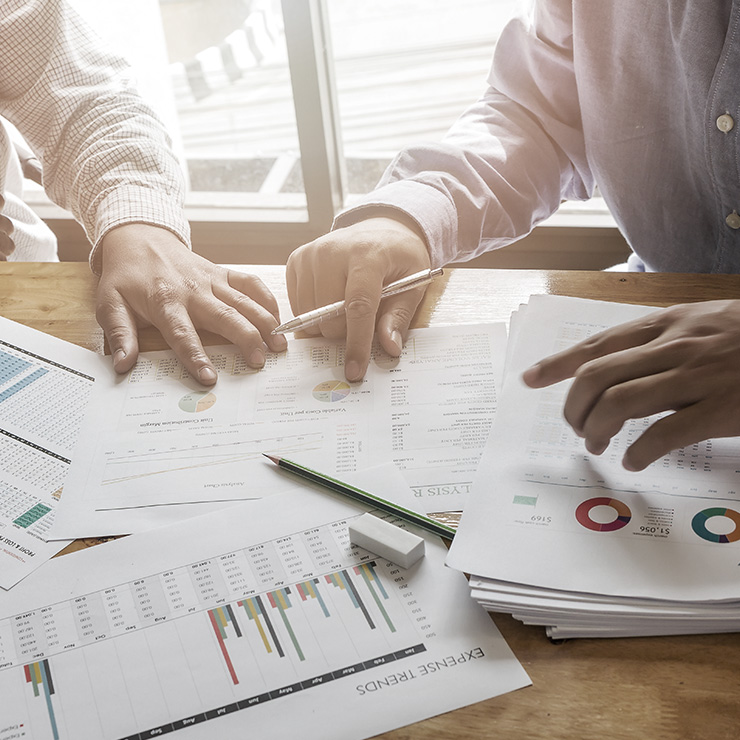 >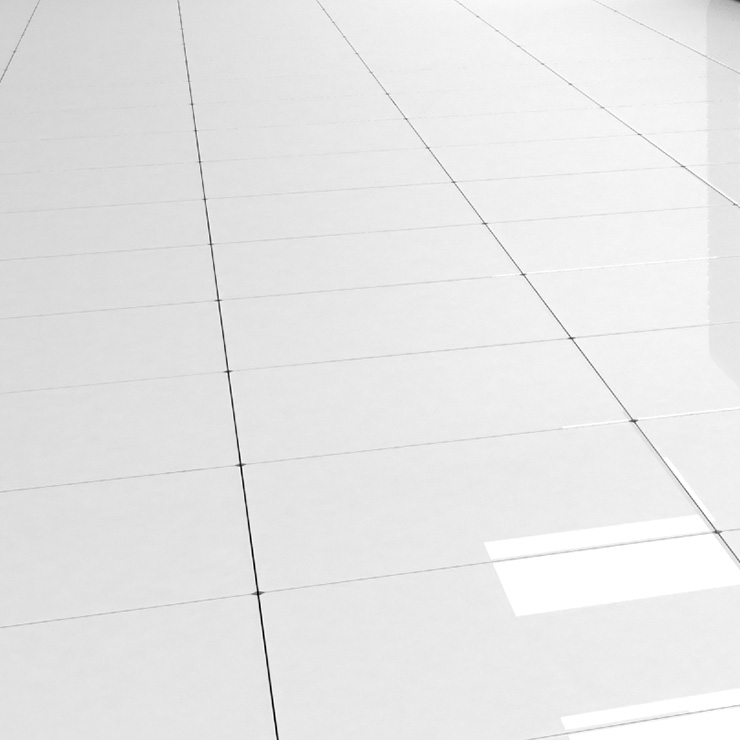 Product Overview
At a glance
Benefits
Features
Technical Data
Most important benefits
Reliable air conditioning of taller racks and higher heat loads
Large air throw for uniform cooling of large server rooms
Low pPUE values achievable
Most important features
Modular design ensures redundancy
Easy access for maintenance purposes
Most important technical data
CyberWall Cooling capacity (kW): 221
Custom Indoor AHU: Technical data on request
Reliable air conditioning of taller racks and higher heat loads
Large air throw for uniform cooling of large server rooms
Units with Free Cooling option enable maximum potential savings
Low pPUE values achievable
Extremely low AER (Airflow Efficiency Ratio) values thanks to minimal pressure drops
Small footprint with maximum cooling capacity
Air handling units with low noise level
Modular design ensures redundancy
Wall-mounted installation with horizontal air conduction
Easy access for maintenance purposes
No raised floor required
Comprehensive service in over 140 countries worldwide
Technical data for CyberWall (WBF 2000 CW)
| | | |
| --- | --- | --- |
| Cooling capacity | kW | 221 |
| Airflow | m3/h | 55.000 |
| Dimensions (W x H x D) | mm | 2.200 × 3.000 × 1.660 |
* Return air conditions: 37 °C; 25 % r. h.; chilled water: 16/26 °C
Technical data for Custom Indoor AHU on request.
Need more information?
Download our brochure!
All details about Air Handling Units for indoor installation
Design concept
1. No raised floor required
2. The entire cold aisle is air conditioned
3. Wall-mounted installation with horizontal air conduction
4. Hot aisle containment
5. Taller racks
6. Return air duct
7. Service corridor
8. Air Handling Units
A new cooling concept for air conditioning maximum heat loads
Air handling unit with small footprint and maximum cooling capacity
Taller racks and higher heat loads are possible, as no raised floor is required
Larger supply air area for a high air flow rate at low air velocity and uniform air conditioning
along the entire cold aisle
Optional dampers prevent air recirculation
Low noise level thanks to optimized air conduction and low pressure drops
Modularity
Systems can be adapted to the project-specific room size and different site conditions
Modular design enables efficient utilization of space and increases operational reliability through redundancy
Higher cooling capacity per wall length: thanks to the design concept, units can be positioned directly next to each other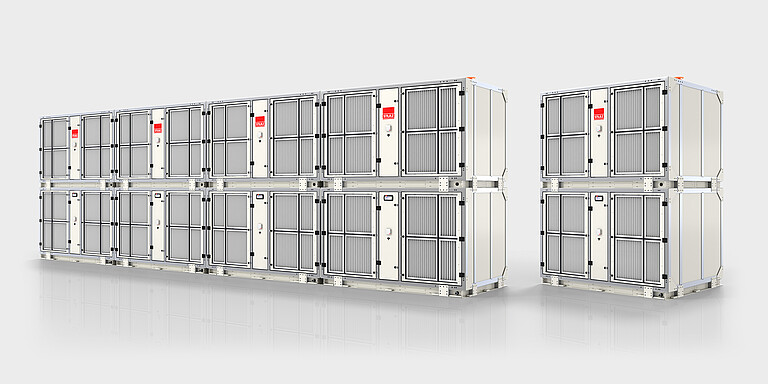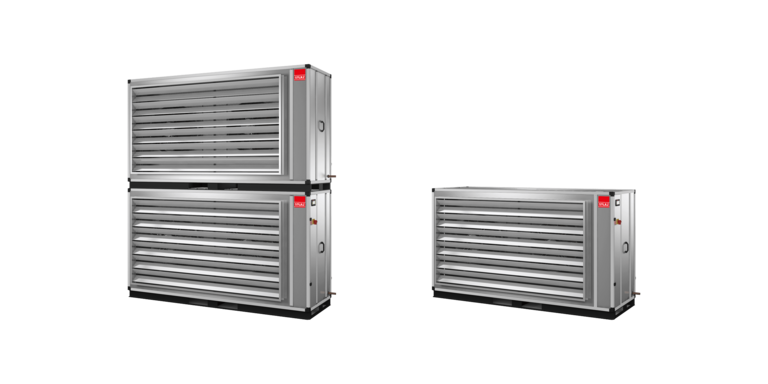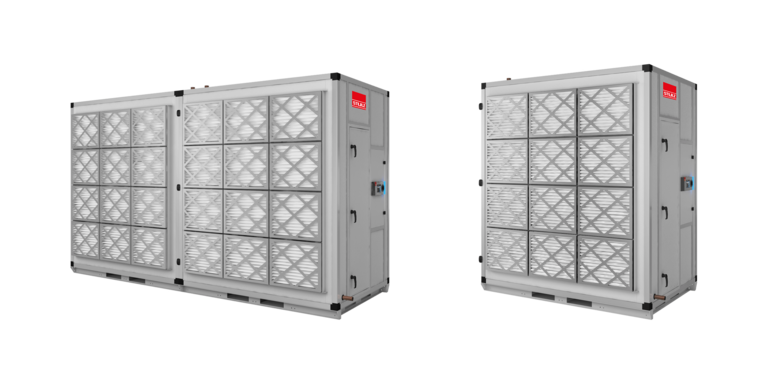 Energy efficiency
Low pPUE values achievable
AHU designed for high supply and return air temperatures within the range recommended by the ASHRAE-TC-9.9 guidelines
Exceptionally low AER (Airflow Efficiency Ratio) values and therefore maximum efficiency in terms of air conduction
Maximized heat exchanger surfaces for high chilled water temperatures and minimal pressure drops
Hot aisle containment for physically separating the hot and cold air, to completely prevent the airflows from mixing
EC fan technology for maximum efficiency
Lowest total cost of ownership (TCO)
Perfect hydraulic coordination of liquid cooling systems thanks to pressure independent control (PIC) valve
Automatic hydraulic compensation
Precise, stable operation whatever the heat load
Reduced energy consumption of pumps in the chilled water system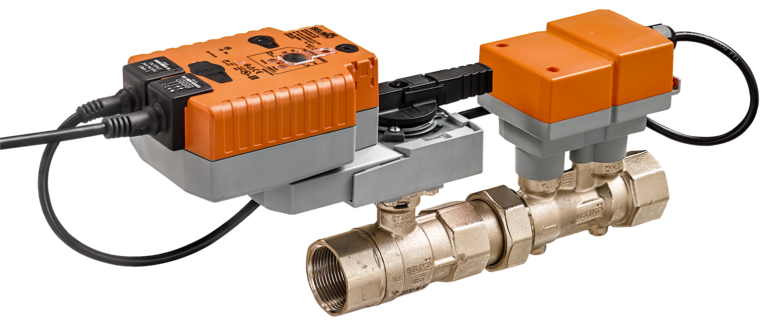 Maximum added value with our self-developed control system
We strive to bring you added value. Perfect coordination of the controller, software and air conditioning units brings you additional reliability and efficiency. We therefore develop our own hardware and software in a holistic and integrated overall process – to exploit the maximum possible benefits for you.
Built-in added value: Our controllers are designed for controlling and monitoring air conditioning systems and for the parallel operation of several machines.
Intelligent control system: Optional sequencing with standby functions enables individual air conditioning modules of a group to be used to a greater or lesser extent with the utmost flexibility.
Reliable documentation: Monitoring and reporting in addition to recording the indoor climate
Maximum flexibility: Compatible with all common BMS protocols
Maximum performance: The controllers enable the centralized control of up to 20 air conditioning modules per group.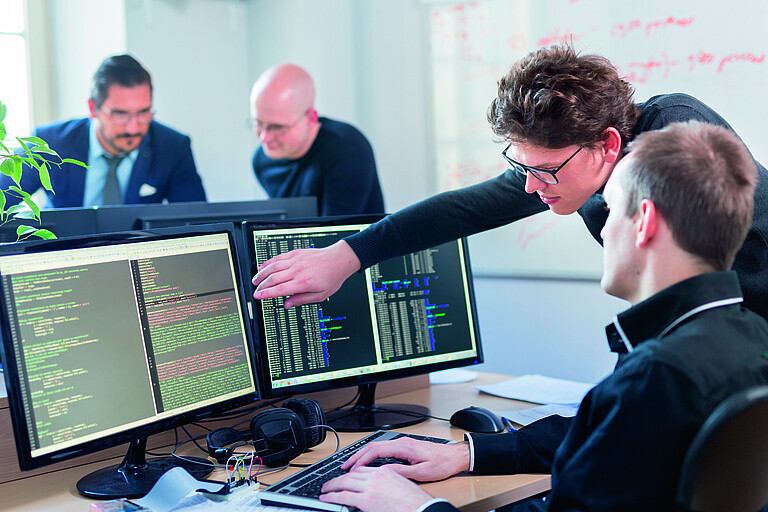 Air handling units by STULZ: The complete solution
Our Air Handling Unit solutions for indoor installation are more than just products. We offer you a complete service portfolio – a turnkey solution for cooling your data center:
Worldwide, professional service
Start-up
Maintenance
Optimization of operations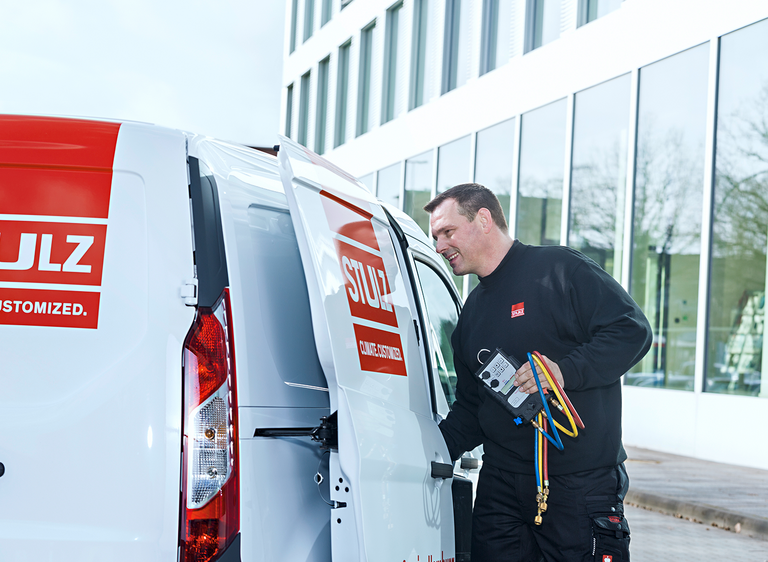 Service and maintenance
As a company with locations across the globe, we offer everything you need in the extremely dynamic world of information technology – plus professional advice in the right place at the right time.
Our trained and experienced sales and service partners are located in over 140 countries. The resulting proximity to our customers allows fast response times. In addition, regular training courses and an active exchange of information ensure high quality and an extensive knowledge of all our products. This way, you can be sure your products are in the best hands and get the right maintenance – all over the world.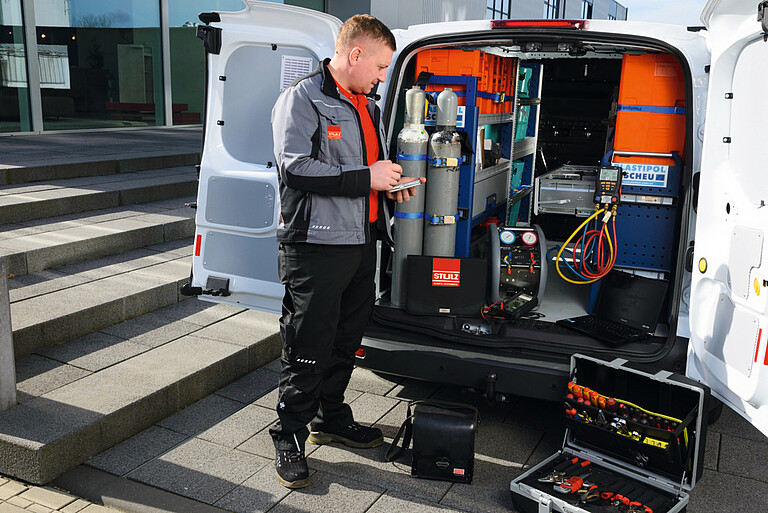 CyberWall – standard unit with rapid availability
At a glance
CyberWall units engineered and produced in Hamburg are compact and easy to transport. The unit design has been tested and optimized to guarantee efficient and reliable cooling of your entire server room. The unit with chilled water system is specially designed for indoor installation and, as a standard unit, offers shorter delivery times.
Advantages CyberWall
Maximum cooling capacity with minimum power consumption
Airflow optimized using CFD analyses to ensure uniform distribution
Baseframe and panel design optimized for indoor installation
Space-saving, cost-effective transport in a standardized shipping container
Easy handling and installation
Modular design for fast and easy installation of air handling units
All maintenance can be performed from the service corridor
Various control options based on Delta T, differential pressure control, and room air and return air
Intelligent positioning of components ensures a flow-optimized design
Thanks to their flow-optimized design, our CyberWall units have the lowest pressure drops and therefore achieve the greatest possible energy savings, which are immediately noticeable. The components are arranged to ensure maximum utilization of the heat exchangers and uniform air distribution along the entire length of the aisle.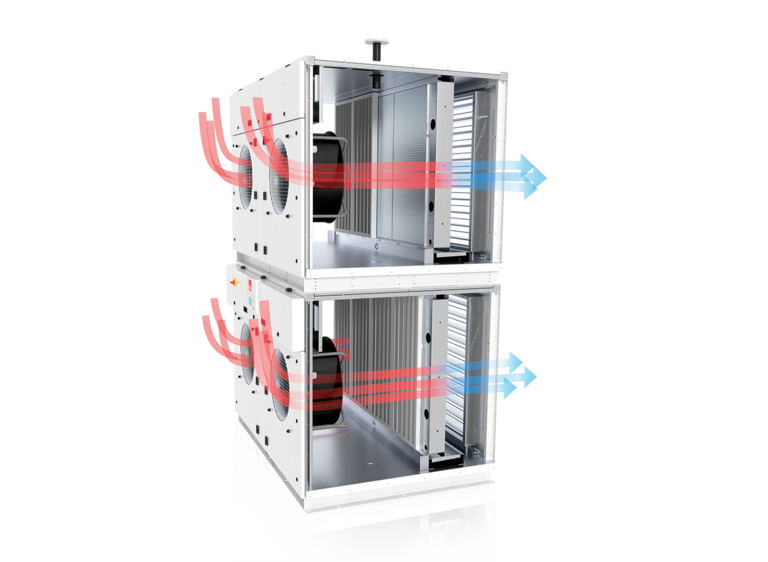 CFD analysis for optimizing operation
In order to avoid pressure losses and to ensure an even temperature distribution, a comprehensive CFD analysis was made during the development of the CyberWall. The results enabled us to test and optimize the flow in all areas of the CyberWall. The outcome is a perfectly uniform flow through the heat exchanger, which maximizes cooling capacity while simultaneously minimizing fan power input.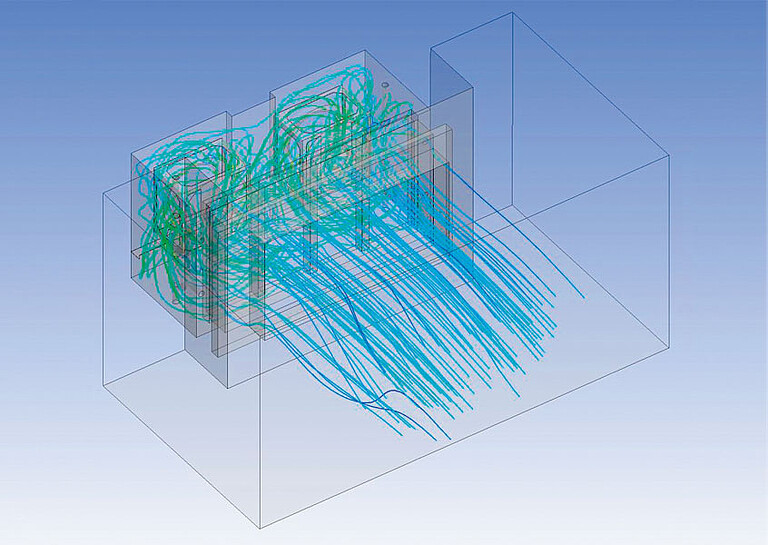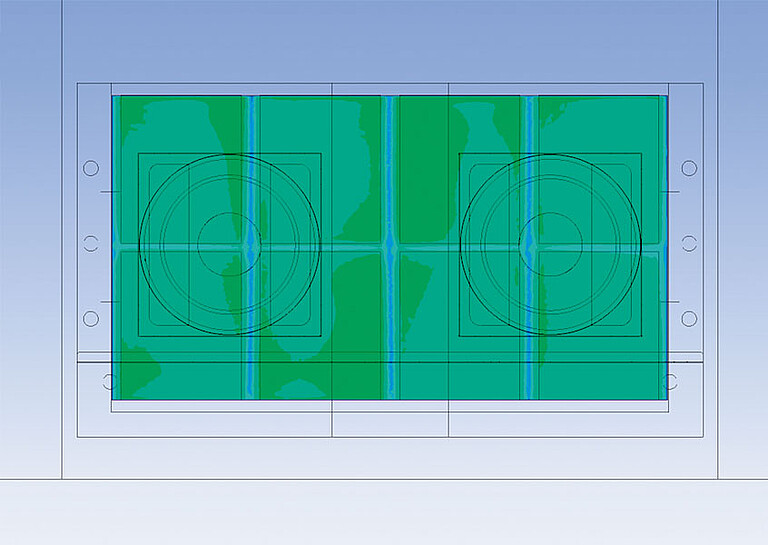 Options
Filter classes according to ISO 16890: ISO Coarse 90% (G4) or ISO ePM10 70% (M5)
Just undo the clamping screw for rapid filter replacement, Filter pressure monitoring
Aluminum air dampers
Various heat exchangers available
Pressure independent control (PIC) valve
Pressure independent control valve for indicating cooling capacity and EER values
Dual power feed with automatic switchover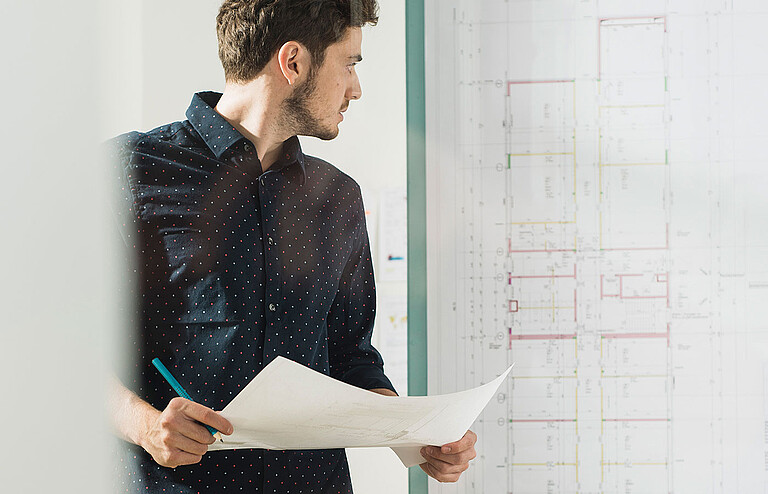 Custom Indoor AHU – tailored to your individual requirements
Climate. Customized.
Whether standalone or intelligently connected, units from STULZ satisfy all your requirements for long-lasting, perfectly adapted air conditioning solutions. From hardware to software, from design to production to installation, we can supply complete air conditioning systems with maximum energy efficiency that respond precisely, intelligently and reliably to your individual requirements. With STULZ you can be sure of operational reliability, while at the same time significantly lowering your equipment's energy costs and CO2 emissions.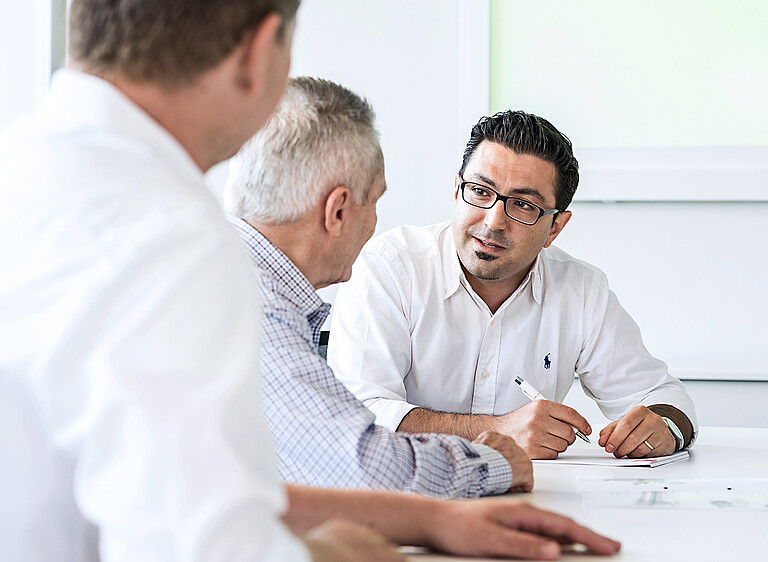 Advantages of Custom Indoor AHU
Customized versions thanks to a variety of design options and cooling systems: Direct evaporative method, Chilled water, Direct Adiabatic Cooling, Free Cooling
Software is adapted to specific customer requirements
Various unit configurations: Horizontal or vertical airflow, standalone or with duct connection
Flexible unit dimensions for individual space and customer requirements
Unit is designed to suit the customer's service strategies
Various heat exchangers available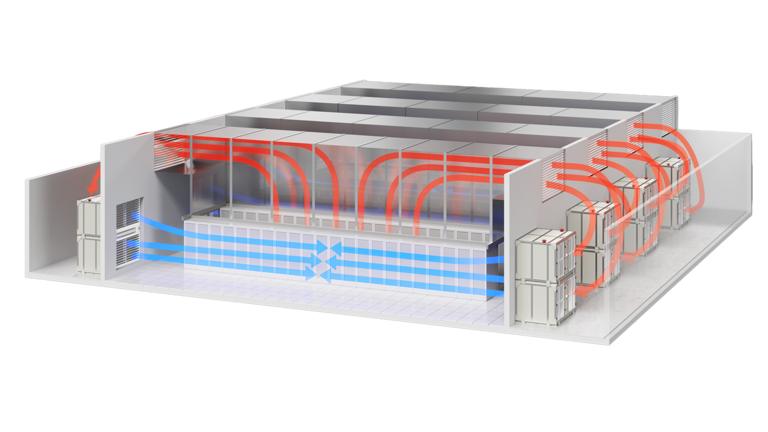 Solutions achieved with customers
STULZ offers the ideal solution for individual requirements – from a comprehensive range of cooling capacities and unit configurations to a variety of different cooling systems. With the STULZ Custom Indoor AHU, you have a custom-tailored solution that has been engineered and ideally configured for your application in consultation with you.
In cooperation with our customers, we have already developed numerous customized air conditioning solutions. Work with us to achieve your desired concept, where all details fit your project perfectly.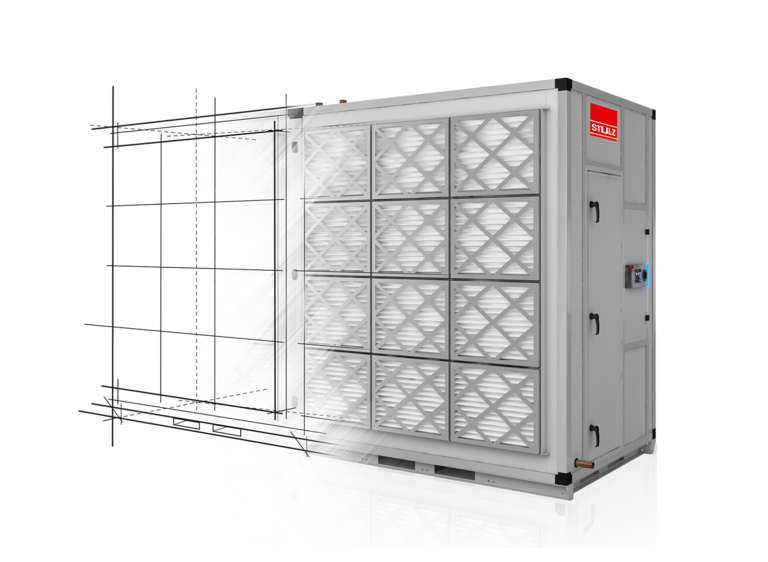 Horizontal AHU
Requirements:
Air handling unit with maximum capacity and a minimal footprint
Redundancy concept for maximum availability
Easy service access to all components
Solution:
Thanks to the large heat exchanger surfaces, this solution ensures a high cooling capacity in a single module. The maintenance-friendly design allows side access to the unit. The redundancy concept is ideally implemented by assigning the units in pairs to a cold aisle and by using counterbalanced fan inlet backdraft dampers to minimize air recirculation.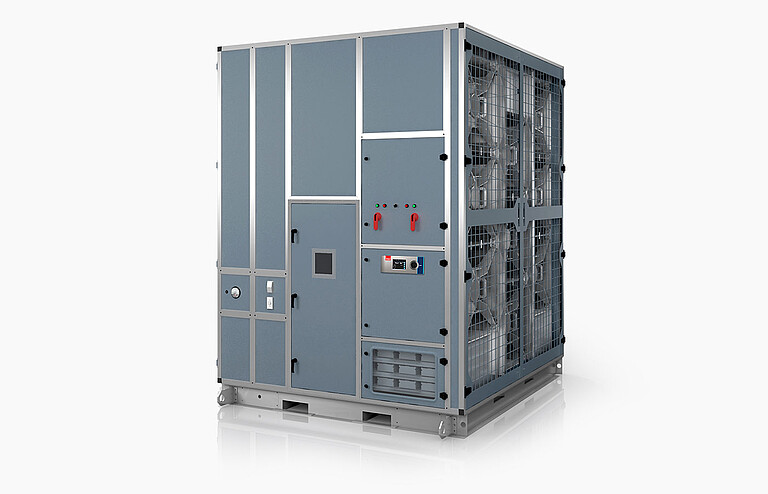 Horizontal Stackable AHU
Requirements:
Large air throw for particularly long aisle lengths
Maximum utilization of the room height
Modular design for simple handling and transport
No maintenance work in the data center
Solution:
This solution allows easy handling for simple and secure stacking of the units to reduce on-site installation time and cost. Despite the minimal footprint, the AHU is particularly easy to maintain and offers a large air throw thanks to the use of axial fans.
Horizontal Split Sectional AHU
Requirements:
Direct Free Cooling
Minimal noise emissions into the data center
Modular design for container transport
Solution:
Due to its dimensions and design, this solution fits into a standardized shipping container. The unit can be reassembled and rewired on site using minimal labor. An integrated module for combining outside air and recirculated air allows efficient use of Direct Free Cooling. Air discharge sound attenuators reduce noise emissions.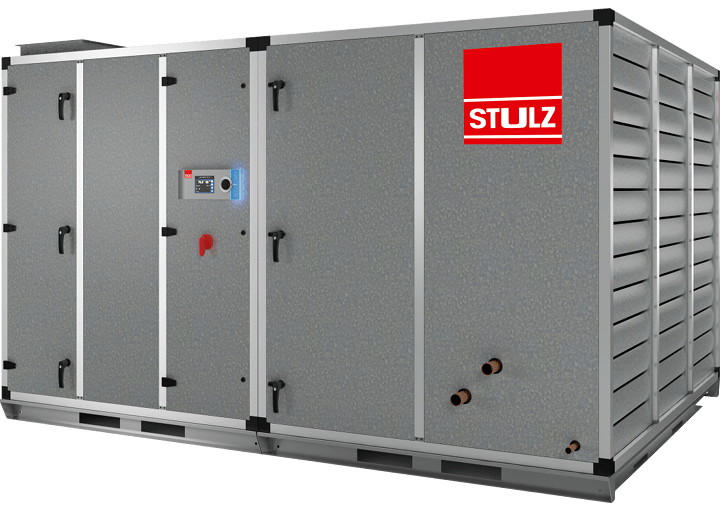 Modular Split AHU
Requirements:
Maximum cooling capacity in a single unit
Addition of modules while the data center is in operation
Dimensions and weight optimized for service elevators and transport routes
Solution:
Due to the vertical center split, the air handling unit fits into service elevators and can be maneuvered within confined spaces. The modular design allows easy on-site expansion with minimum effort.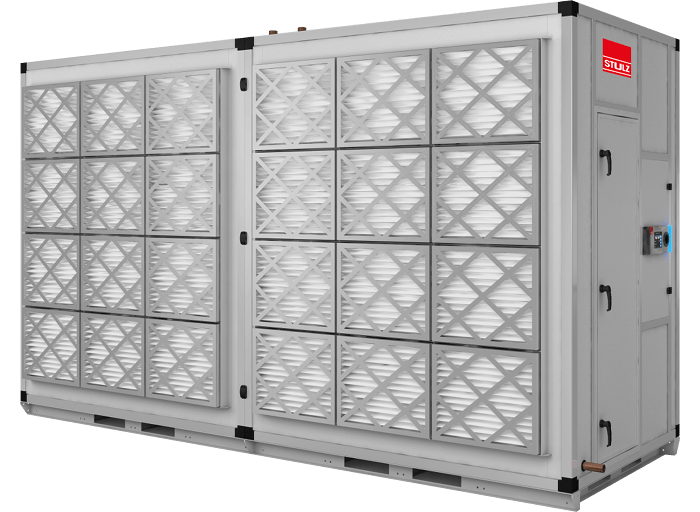 CAH 2000 CW
Requirements:
Optimized for especially high heat loads
Maintenance during operation
Earthquake-proof
Solution:
This successful design is used at numerous locations. The unit consists of two modules, is earthquake-proof, and the design allows several units to be positioned directly next to each other.  The filters can be changed during operation and foldaway fans allow very easy maintenance.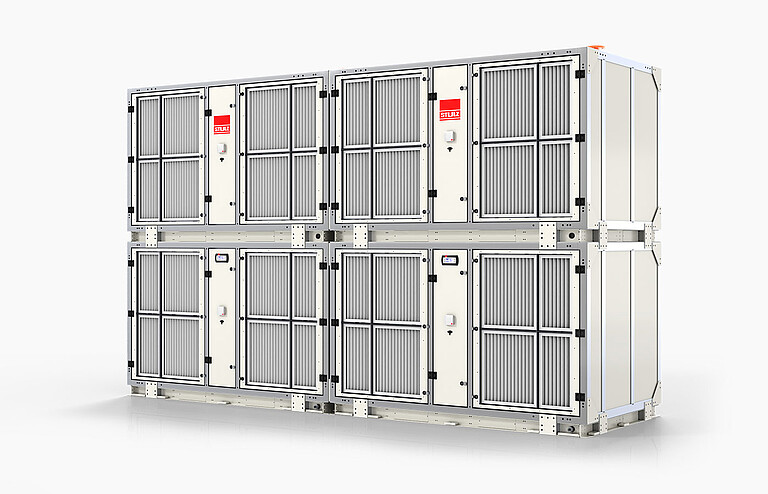 Back to Selection