Your global partner for energy efficient cooling solutions and high-quality service, close to you all over the world.
In telecommunications, solutions with a sustainable design and fail-safe operation are essential. By continuously improving efficiency and gradually converting our units to more environmentally friendly refrigerants, we ensure that telecom networks are both future-proof and cost-effective. We work with you to develop the optimum solution for your telecom infrastructure.
How may STULZ support you?
Your partner close to you
With STULZ your project is in the best hands. Highly qualified service technicians ensure competent and fast support at more than 150 locations worldwide – around the clock. For over 50 years, our customers have relied on the technical expertise, comprehensive resources and area-wide availability of STULZ Service.
Our service team and its specialist expertise are always at your disposal for all your questions and needs.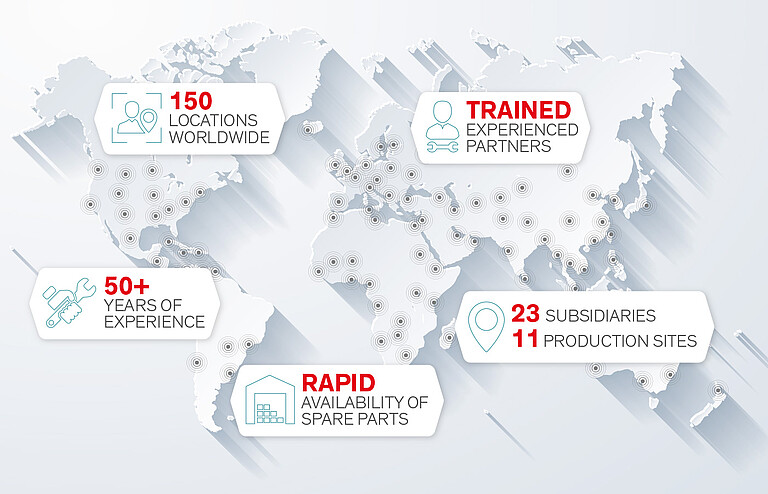 Making your infrastructure as energy-efficient as possible
To keep your carbon footprint and operating costs as low as possible, an energy-efficient cooling solution for your infrastructure is essential.
With our constant focus on efficiency, we offer solutions that incorporate all the important factors such as Free Cooling, unit design and components that keep products cost- and resource-efficient throughout their life cycle. Our team will also happily to give you advice on how to further increase the efficiency of your individual system.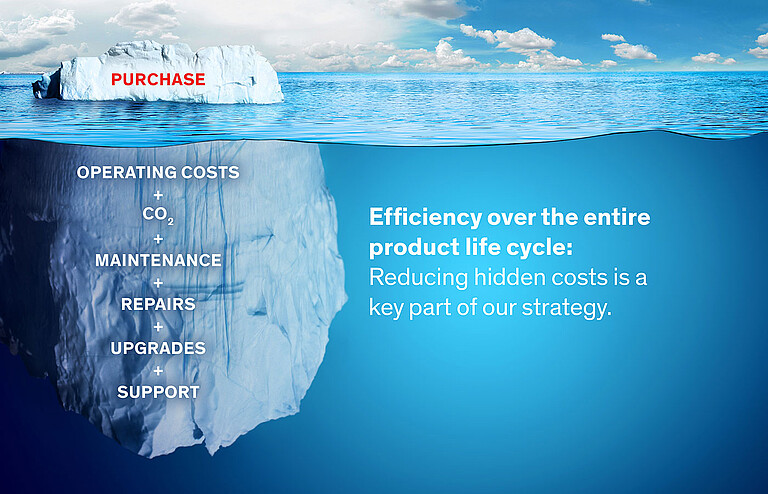 Enabling sustainable telecom infrastructure
Through constant research, development, and adaptation, we ensure that our products and systems are becoming increasingly sustainable. Our Free Cooling systems are not the only major contributor here – we are also converting our units to work with more environmentally friendly refrigerants, and with less refrigerant altogether. In this way, together with you, we can take vital steps to reduce your carbon footprint to a minimum.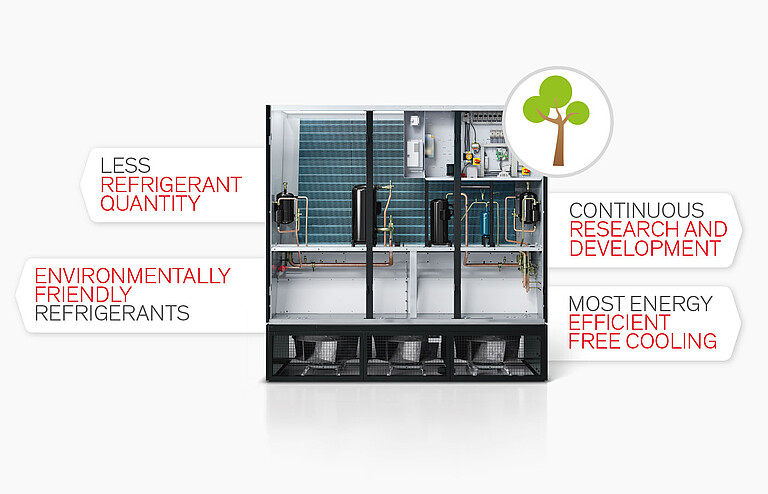 Ensuring fail-safe operation
High-quality components and the solid design of our units ensure a long product life and optimum operation under all conditions. In addition, monitoring options and remote diagnosis are available to further optimize operation. These also enable rapid intervention and immediate troubleshooting in all situations to avoid potential downtimes. Benefit from our decades of experience and intensive research, which we use to continuously improve the operational reliability of our solutions.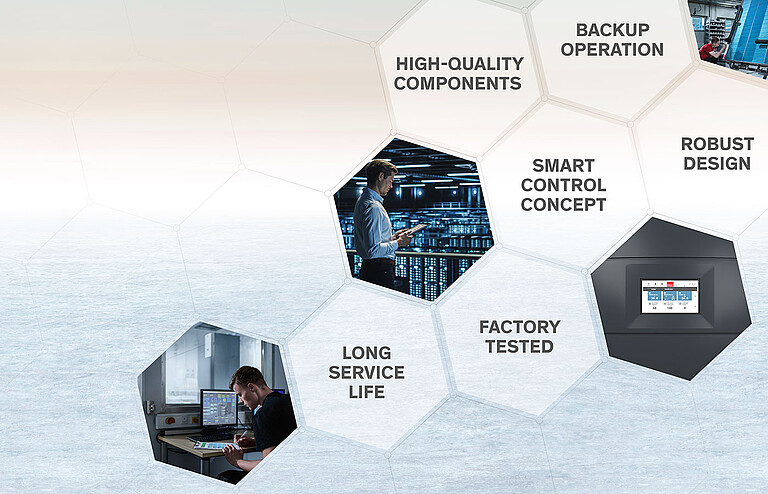 Reducing maintenance time to a minimum
A long product life combined with our control technology reduces the required maintenance to a minimum. This significantly extends maintenance intervals and minimizes the number of on-site visits by service technicians.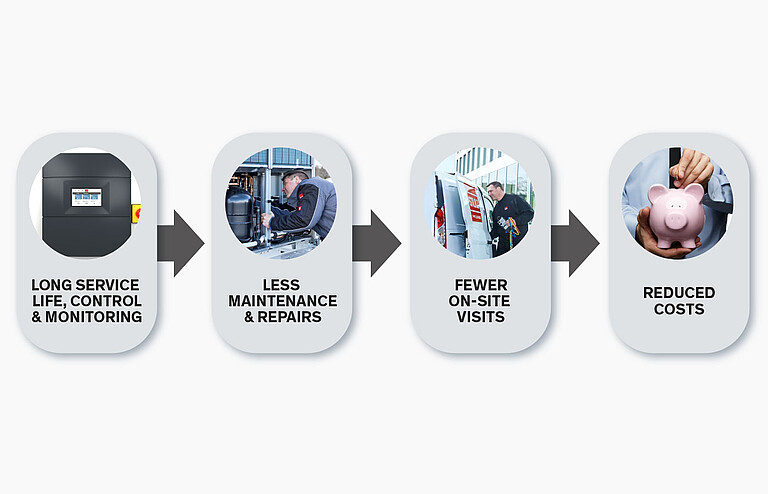 A-Z Support
As your partner, we deploy our experience, expertise and technology to make sure you achieve your objectives. We are committed to accompanying you and your systems, individually and reliably – from planning to implementation right through to service, maintenance and optimization. Anytime, anywhere – we are there for you to keep your business up and running.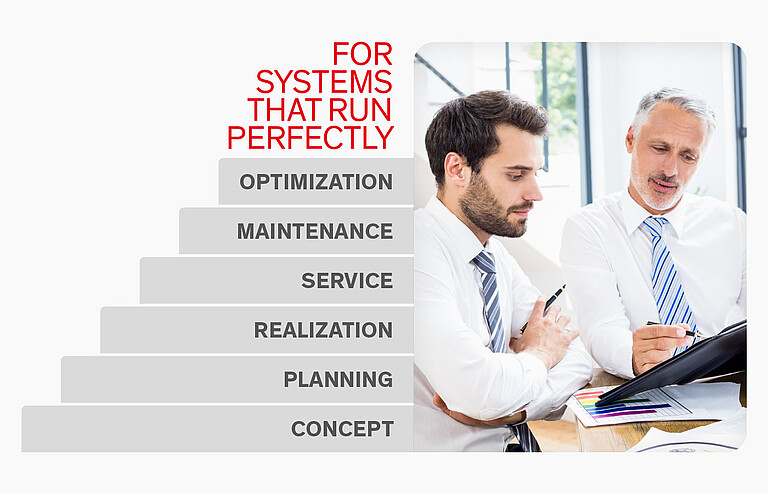 Our areas of application in telecom infrastructure
Core
In telecommunications, new technologies and the resulting increase in data volumes also mean more exacting requirements and greater computing capacity for the core network. With these more stringent requirements and increasing heat loads, it`s even more important to focus on energy efficiency and therefore on operating costs and carbon footprint. STULZ solutions are the most efficient on the market thanks to our Indirect Dynamic Free Cooling, which we developed in-house.
Read our white paper, dealing with the topic "Free Cooling for data centers" that explains which systems are subject to certain restrictions, which have regional advantages, and what aspects need to be considered.
Download white paper

Please contact us for advice on what potential savings you could achieve.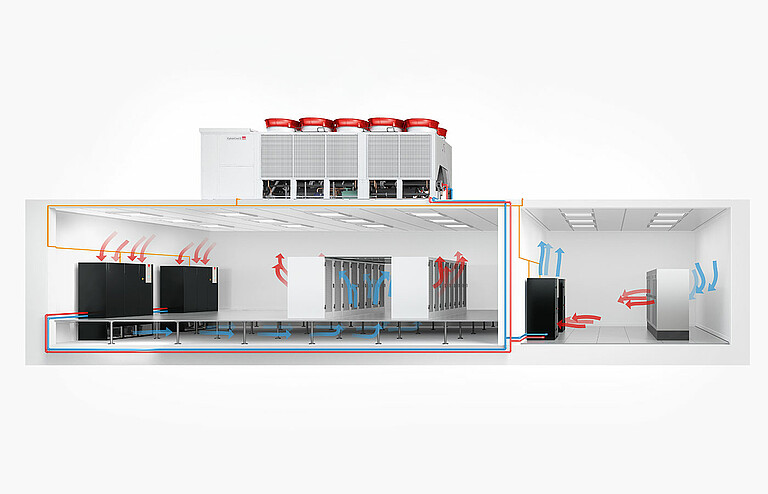 Products
Air-conditioning units for medium and large data centers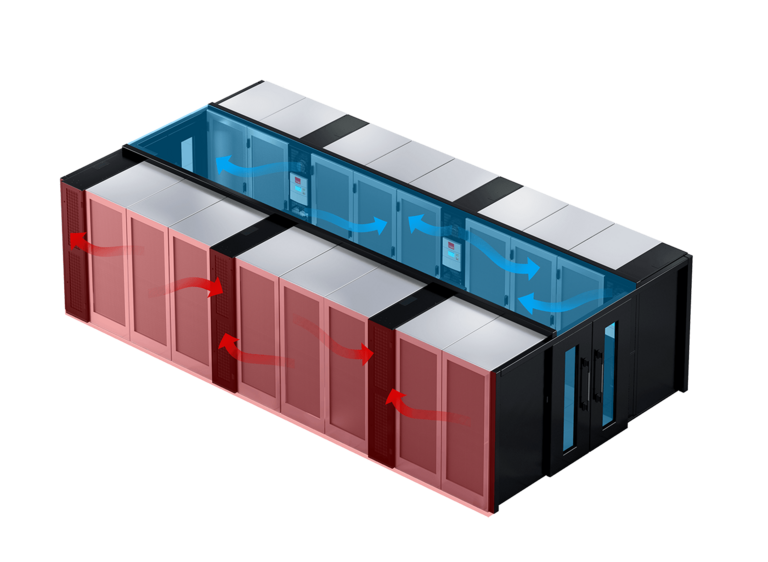 Solutions for medium and large data centers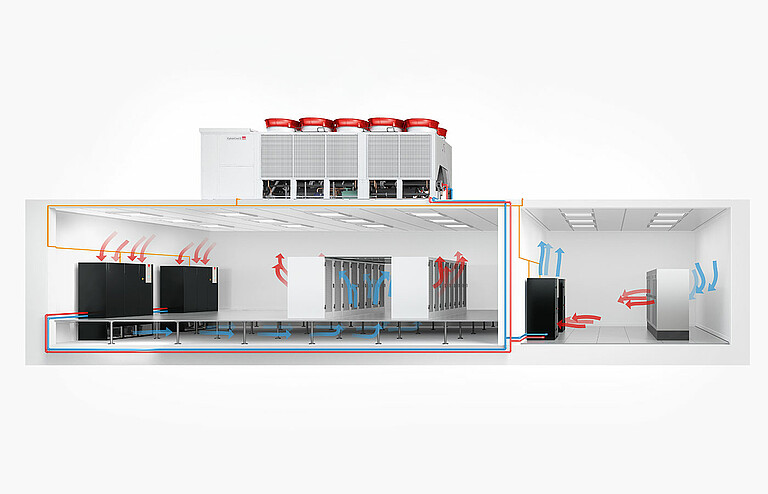 Solutions for medium and large data centers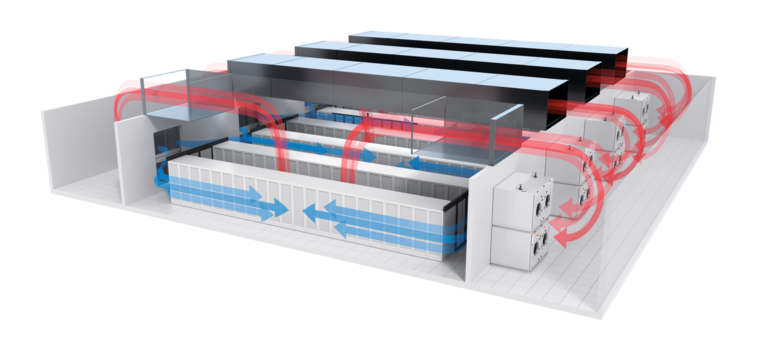 Edge
While the demands on the core network are increasing, it is also essential to expand the edge infrastructure, in order to meet latency and data volume requirements.
STULZ is at your side with sustainable air conditioning solutions and rapidly scalable concepts, for large and small heat loads. These enable you to achieve the greatest possible availability for your infrastructure with minimal operating costs.
It´s also very important to minimize noise emissions in residential areas and near offices. STULZ offers solutions that ensure optimum operating conditions, so that all system equipment runs quietly.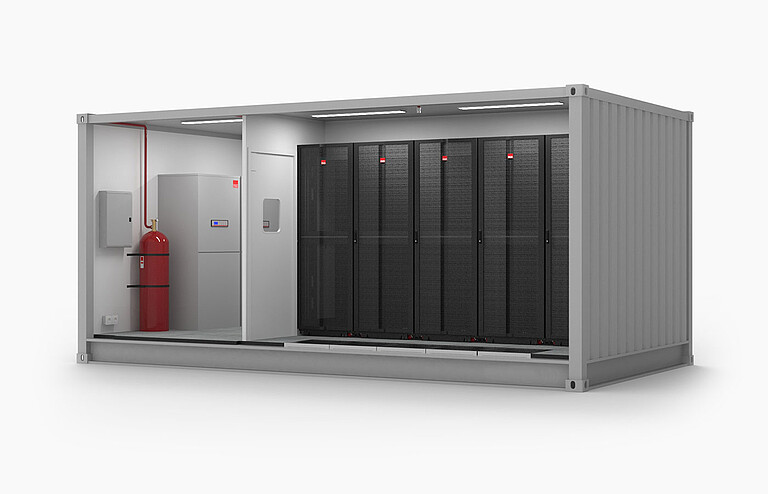 RAN, fiber networks, PoP
The shorter range of telecommunication networks necessitates a huge increase in the number of base stations, outdoor cabinets and antennas. To ensure fail-safe operation of the decentralized nodes, reliable cooling of the various systems is essential. STULZ offers long-lasting, energy-efficient solutions with Free Cooling options. Not only does this minimize operating costs – it also helps to achieve global and regional CO2 targets.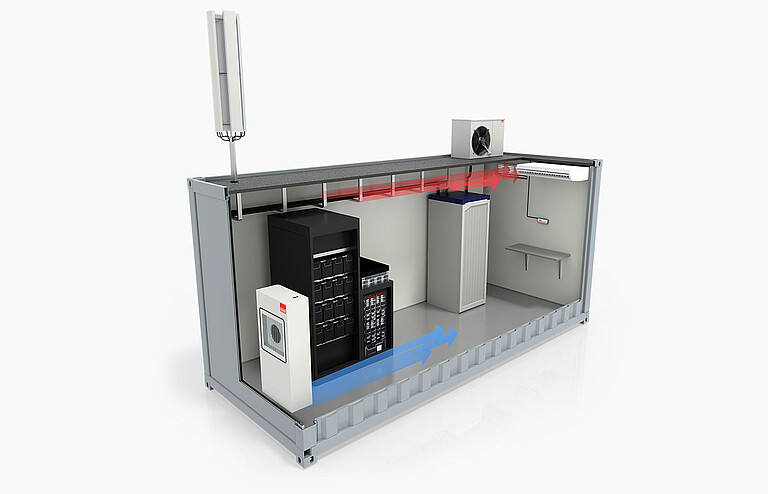 Products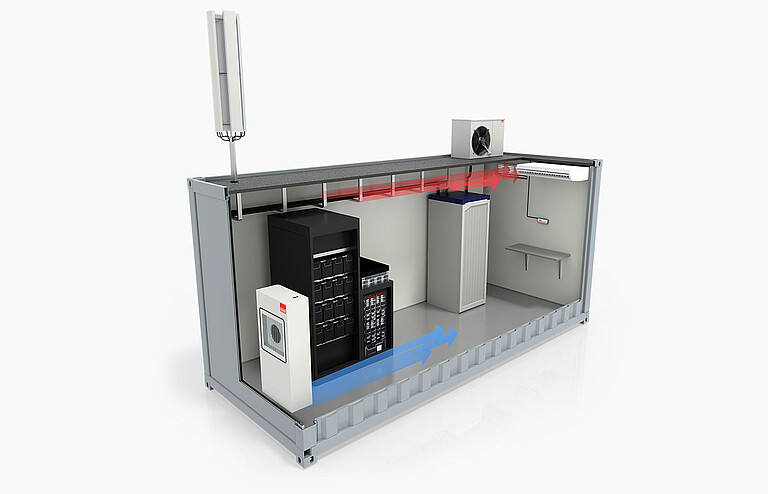 Air Conditioning of outdoor cabinets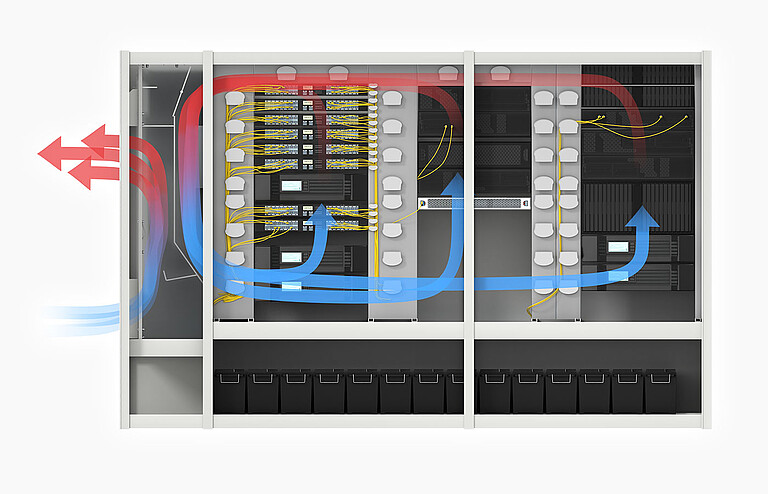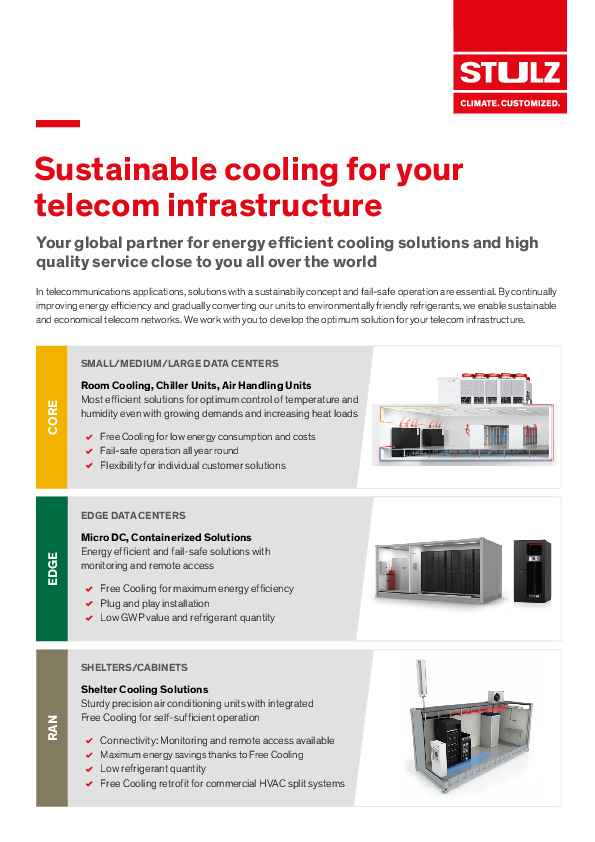 Flyer Telecom infrastructure
Read more about our projects in the area of the telecom infrastructure