Introduction
After more than a year, the renovation of the former hospital/nursing home at the Tweede Constatijn Huygensstraat 37-39 in Amsterdam has been completed. This building, also known as the Old Mentrum building, underwent a true metamorphosis. Completely stripped on the inside and subsequently converted into a building with 90 studios (one-room houses) with approximately 200 square meters of management and meeting areas on the ground floor. 22 of these studios are intended for young status holders. The other 68 studios are rented to young people between 23 and 28 years old.

The houses are rented out through the so-called youth contract. A major job in which various parties are involved and, of course, with a lot of attention for the technical installation part of the operation. INNQ installations, a specialist in the installations of customized systems is one of those parties. Peter van Haaften of INNQ installations is project leader and during a visit at the end of November he tells us that everything is going as expected and that the project will be finalized in February.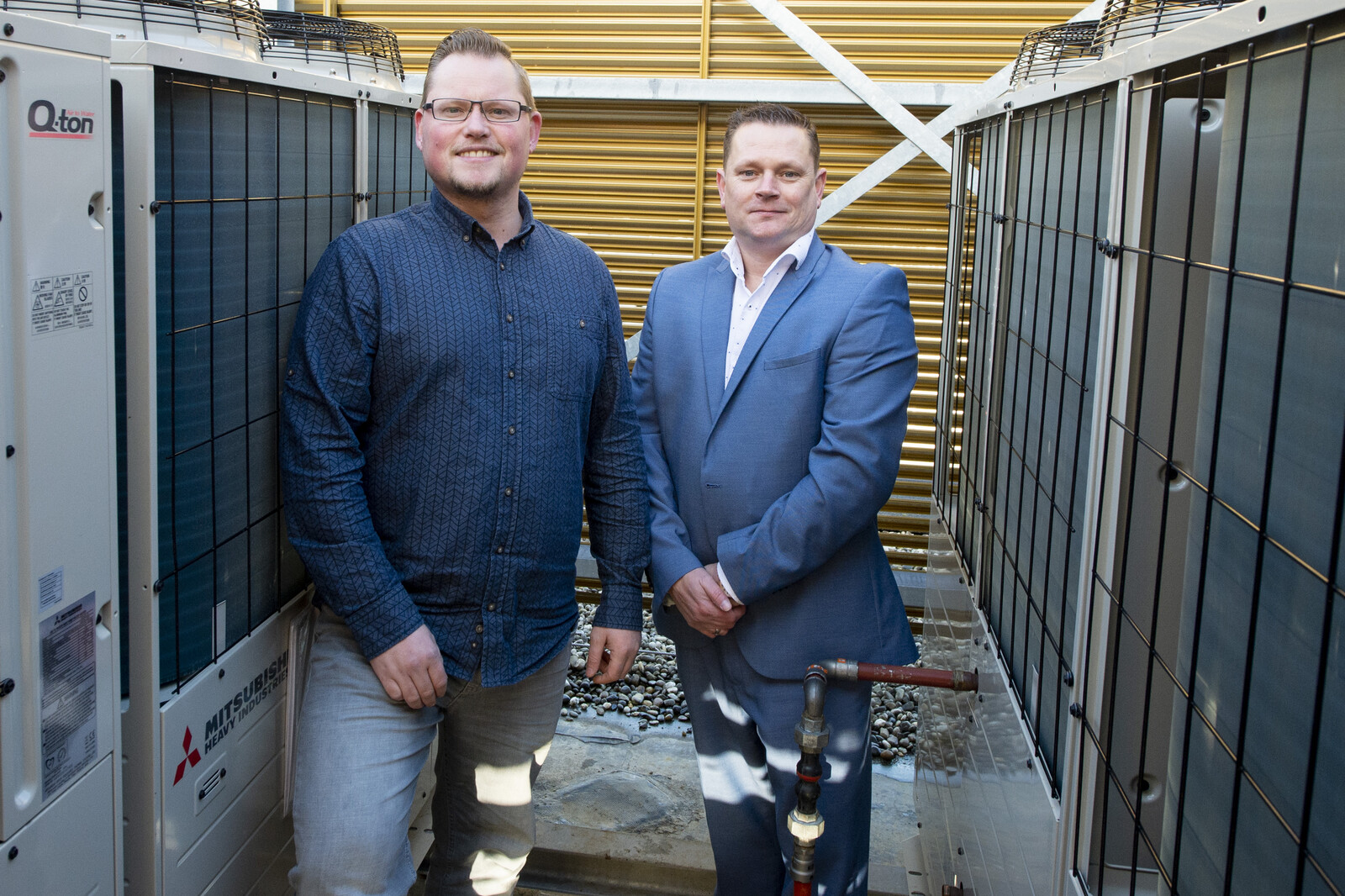 Special
"Technically not such a  exciting job, however, you have to do it right in terms of preparations and dimensions. If you miscalculate a few centimeters, you will have a lot of problems during the project. But fortunately, everything went well during this project", says Peter Van Haaften. When we talk about heating (warmwater and radiator) STULZ comes into the picture. STULZ is specialized in high-end climate solutions and for this project the descision was made to install a Q-ton air-water heat pump. Which is a special heat pump for several reasons.

The Q-ton uses CO2 gas as a refrigerant. This refrigerant delivers exceptional performance and many environmental benefits. CO2 is a natural gas and contributes to the Q-ton delivering significant savings, and this applies to both energy and carbon emissions. Evert van Merkestijn, account manager at STULZ, points out another important advantage of the Q-ton: "There is, and rightly so, more and more attention for the environmental aspects. Refigerants with a Low Global Warming Potential are increasing in popularity, this Global Warming Potential (GWP) value for the Q-ton is exactly 1. This is exceptionally low. Therefore the Q-ton is very responsible product in terms of ecology"

The installation also delivers special performance: supply of water from 60 ºC to 90 ºC degrees, even at an outside temperature of -25 ºC and retention of 100% capacity down to -7 ºC. An external heat source is therefore not necessary. In summary, the Q-ton: an innovative, extremely reliable and efficient heat pump that, in addition to delivering excellent performance, actually makes a contribution to reducing emissions.
Cooperation
Open doors, of course, but it is nice if the cooperation between parties goes well. Peter van Haaften of INNQ: "We already worked with STULZ before and partly on the basis of that experience we actually knew that things were going well. With such a project it is important that you pull together from the beginning. And so, in consultation with STULZ, we tackled the entire engineering, among other things. " Evert van Merkestijn adds: "You have to make use of each other's expertise and STULZ offers a wealth of experience in this area. Apart from the technical knowledge, we have an excellent service level. Thinking and talking with the customer is in our DNA.

That is only possible if you spend a lot of time and energy on the relationship with your customers. " The renovated building is future-proof, partly thanks to the Q-ton. With maximum efficiency and a minimal ecological footprint. STULZ offers climate solutions with products in precision cooling, comfort cooling, humidification and heat pumps. STULZ carries the brands Mitsubishi Heavy Industries, CAREL and S-Klima.